Local chef Greg Higgins of Higgins Restaurant & Bar in Portland notes that with a little effort, home cooks can incorporate Oregon Orchard hazelnuts into a restaurant-quality dish as versatile as the nuts themselves. He shares this recipe for a "classic terrine that can be made ahead of time," explains Higgins, "and it makes a great appetizer, picnic fare, or light lunch or supper paired with a garden salad."
Serves: 8-10
Prep time: 1 hour
Cooking time: 2 hours
Equipment: 2 qt. terrine mold, palette knife, meat thermometer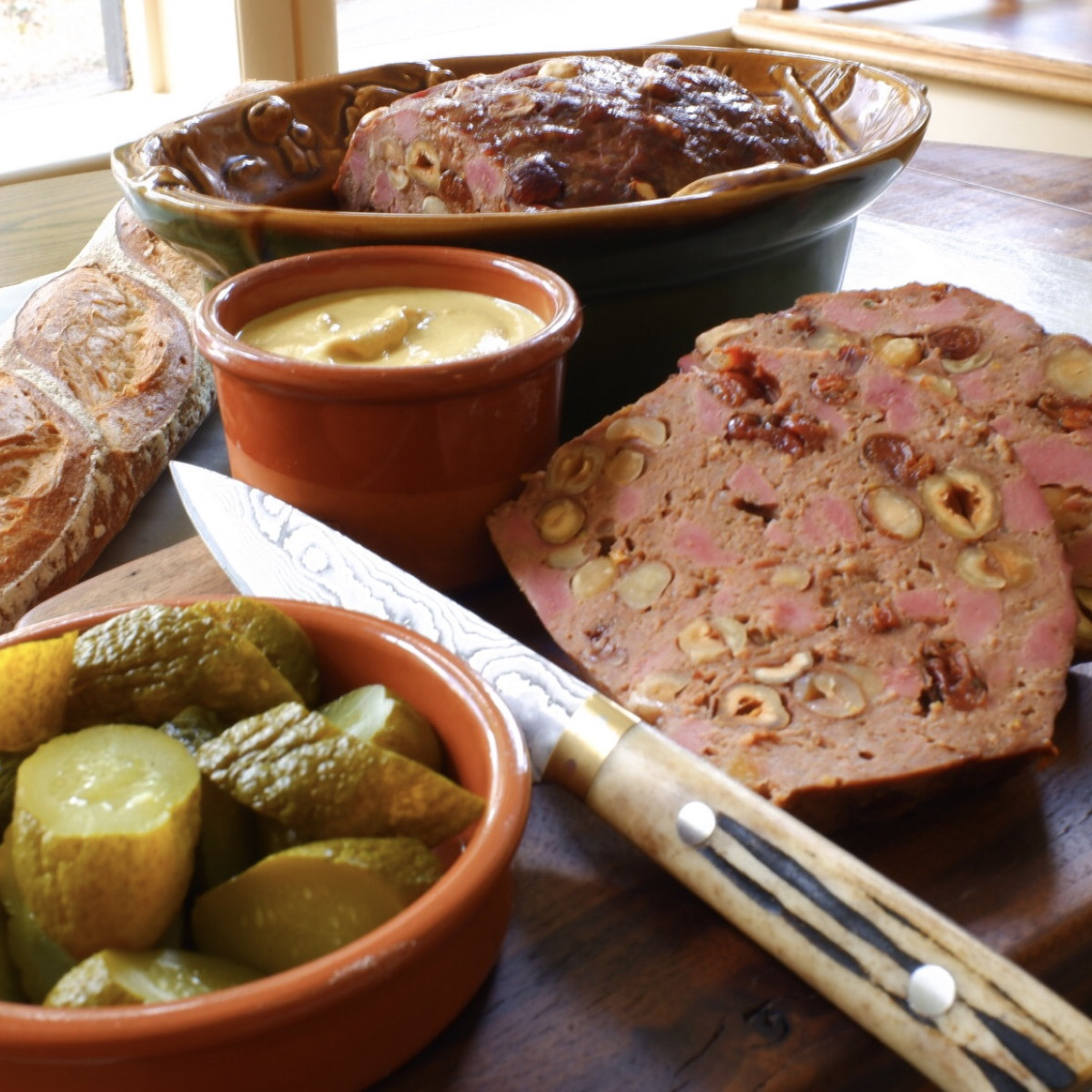 Ingredients:
1-1/2 lb. Pork belly – ground ¼"
1-1/2 lb. Duck meat – ground ¼ "
10 oz. Duck livers – ground ¼"
1 oz. Salt
¾ c. Milk
2 ea. Eggs
½ t. Celery seed
½ t. Nutmeg
1 t. White pepper
½ t. Cayenne pepper
1 T. Porcini mushroom powder
1 T. Green peppercorns
1 T. Orange zest – minced
1 c. Hazelnuts – lightly toasted
1 c. Dried sour cherries
1-1/2 Kirsch or brandy
Directions:
Combine the salt, spices, mushroom powder and orange zest; mix well.

Lightly beat the eggs with the milk and kirsch until evenly combined.

Place the ground duck, pork and livers in a large mixing bowl, season with the salt spice mixture, add in the milk and eggs, mix well to evenly incorporate all the ingredients.

Fold in the hazelnuts and dried cherries and mix thoroughly. Cook a small portion of the terrine mixture in a sauté pan and adjust the seasoning to taste as needed.

Carefully fill a terrine/pâte mold with the mixture, taking care to avoid air pockets; fill and contour the terrine evenly and cover it with the lid.

Cook the terrine in a water bath in a pre-heated 350-degree oven to an internal temperature of 135 degrees (about 2 to 2-¼ hours).

Cool the terrine overnight in the refrigerator.

The following day, unmold the terrine and serve sliced, ½-inch thick, with pickles, mustard and artisan bread paired with a chilled Pinot Blanc or Pinot Gris. The terrine keeps well for 7-10 days and can be frozen for longer keeping.
Curious to know more about Oregon's official state nut? Learn all about hazelnuts here!
Find Hazelnut Growers Near You