What's the first thing that comes to mind when you hear the word hazelnuts? Holidays? Chocolate-covered snacks? National Hazelnut Cake Day? This harvest season, think the Willamette Valley!
According to the Oregon Agriculture in the Classroom Foundation, over 99% of all the hazelnuts grown in the United States are grown in Oregon's own Willamette Valley. Hazelnut growers need climates with mild winters, cool summers, and moist, well drained soils near large bodies of water. The Willamette Valley offers exactly that—an idyllic corner of the Pacific Northwest framed by breathtaking mountain range vistas, rife with waterfalls and threaded with soulful rivers and streams. Its mix of temperate ocean, mountain and river climates, together with rich volcanic soils, makes it prime hazelnut-growing territory.
In 1989 the hazelnut became the official state nut of Oregon, the only state to have a state nut! Many Oregon growers are third and fourth generation orchardists. When and where was the first hazelnut orchard in Oregon history? In 1903, George Dorris of Springfield started the first commercial orchard with more than 200 Barcelona hazelnut trees. Barcelona is the most prominent variety grown in Oregon today. The Dorris Ranch is now a living history hazelnut farm with thousands of visitors annually.
Oregon Agriculture in the Classroom Foundation (a treasured resource dedicated to helping students grow in their knowledge of agriculture) highlights that hazelnuts are the fourth largest tree nut crop in the world, behind cashews, almonds, and walnuts. The top countries for hazelnuts are Turkey (70% of world production), Italy (18% of world production), and Oregon (3-4% of world production).
Friend of Oregon Taste Matthew Gillespie, marketing & innovation manager for Oregon Orchard, says in a recent partnership announcement with Oregon's Higgins Piggins restaurant that,
"One of the easiest ways to elevate a plate is to add locally grown Oregon hazelnuts. Not only do hazelnuts enhance the taste and texture of a dish, but they also crank up the nutritional value. They contain no cholesterol, are rich in omega 6 and omega 9 fatty acids, and are an excellent source of protein, Vitamin E and Vitamin B-complex. We're thrilled that our local restaurants keep finding ways to familiarize patrons with this healthy, homegrown nut."
Oregon Orchard makes finely crafted hazelnut products, brought together by Hazelnut Growers of Oregon. Hazelnut Growers of Oregon is a business unit of farmer-owned cooperative Wilco with more than 180 growers who collectively own more than 20,000 acres of prime hazelnut orchards.
Photo credit: @oregonhazelnuts @HazelnutGrowersOregon
Orchard Feature
Since 1981 Randy and Pam Henderson and their family have been growing thousands of pounds of crops – 75 sorts, to be exact - all of them from seed. You'll find Thistledown on River Road, between Eugene and Junction City, Oregon. 
All spring, summer and fall the farm offers a wide variety of fresh vegetables, fruit, hazelnuts and beef and bakery items made from the farm's harvest. The farm stand is open from early spring until right after the Halloween hoopla winds down. Of course the farm work continues year round.
"Thistledown would be nothing without its loyal customers. We love seeing the same familiar faces out at the farm each week"— Farmer Pam Henderson
What began as a small farm in 1981 has grown to more than 800 acres. Whether the farm supports the family, or the family supports the farm, depends on your perspective. Life without the farm is hard to imagine, she says. Over the years the family has expanded offerings from basics like strawberries, to grow perennials, annuals and hanging baskets, and the addition of hazelnut/filbert trees.
In addition to their own hazelnuts, they offer roasted, salted hazelnuts from their sister farm, Hazelnut Hill. Hazelnut Hill is an award-winning confectionary that tends and harvests 400 acres as one of the very few tree-to-table producers in the US, and specializes in products made with fresh hazelnuts grown right next door, by the second generation of Thistledown Farm Hendersons — Ryan and Rachel.
Find hazelnuts and hazelnut products here, made to order so that you receive it at peak freshness and flavor. You'll be enjoying fresh hazelnuts while directly supporting Oregon hazelnut farms and growers!
Look here for more information about Thistledown Farms.
Chef Favorites:
Hazelnut Recipes
Alsatian-style terrine of duck and pork with dried sour cherries and hazelnuts
Local chef Greg Higgins of Higgins Restaurant & Bar in Portland notes that with a little effort, home cooks can incorporate Oregon Orchard hazelnuts into a restaurant-quality dish as versatile as the nuts themselves. He shares this recipe for a "classic terrine that can be made ahead of time," explains Higgins, "and it makes a great appetizer, picnic fare, or light lunch or supper paired with a garden salad."
Serves: 8-10
Prep time: 1 hour Cooking time: 2 hours
Equipment: 2 qt. terrine mold, palette knife, meat thermometer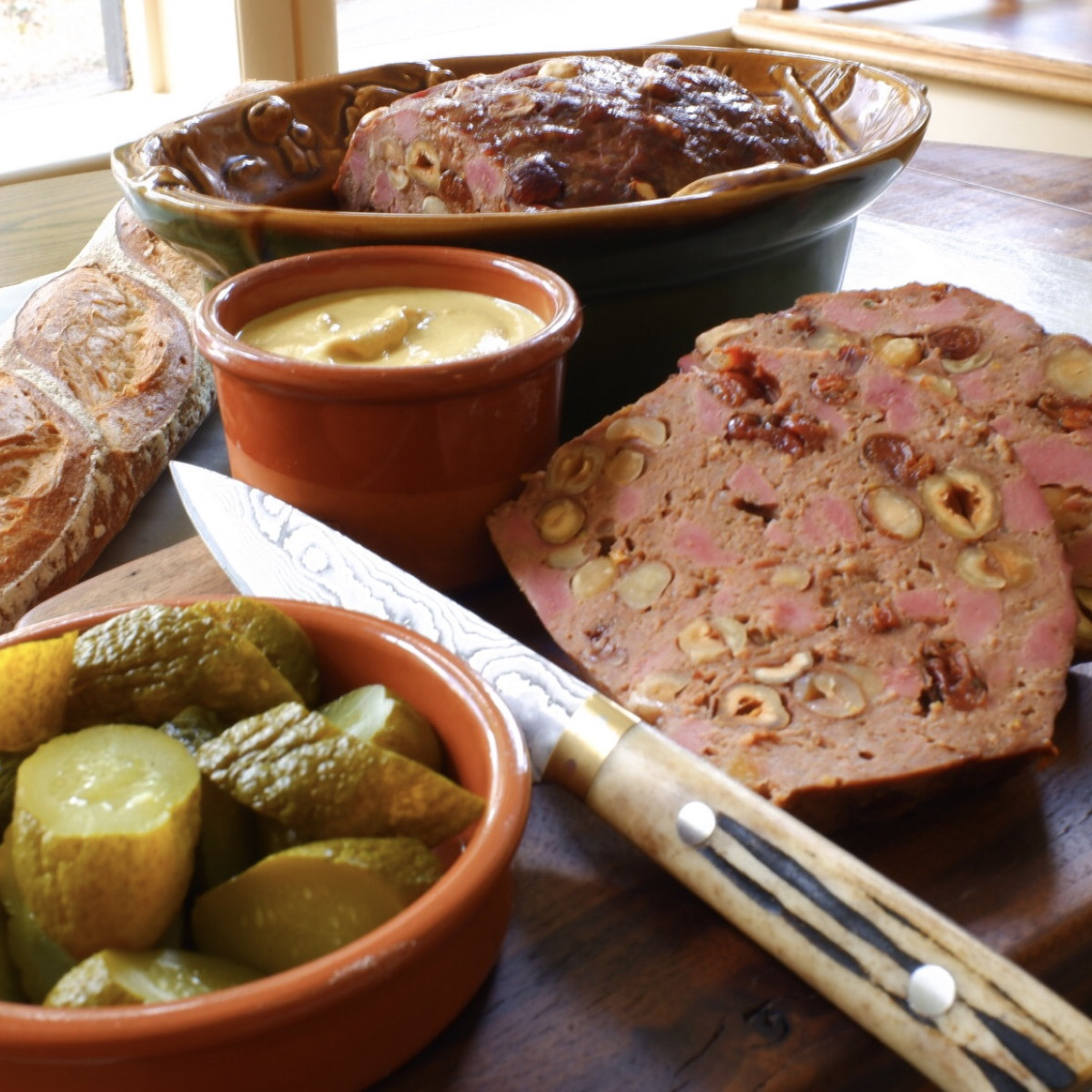 Ingredients:
1-1/2 lb. Pork belly – ground ¼"
1-1/2 lb. Duck meat – ground ¼ "
10 oz. Duck livers – ground ¼"
1 oz. Salt
¾ c. Milk
2 ea. Eggs
½ t. Celery seed
½ t. Nutmeg
1 t. White pepper
½ t. Cayenne pepper
1 T. Porcini mushroom powder
1 T. Green peppercorns
1 T. Orange zest – minced
1 c. Hazelnuts – lightly toasted
1 c. Dried sour cherries
1-1/2 Kirsch or brandy
Directions:
Combine the salt, spices, mushroom powder and orange zest; mix well.

Lightly beat the eggs with the milk and kirsch until evenly combined.

Place the ground duck, pork and livers in a large mixing bowl, season with the salt spice mixture, add in the milk and eggs, mix well to evenly incorporate all the ingredients.

Fold in the hazelnuts and dried cherries and mix thoroughly. Cook a small portion of the terrine mixture in a sauté pan and adjust the seasoning to taste as needed.

Carefully fill a terrine/pâte mold with the mixture, taking care to avoid air pockets; fill and contour the terrine evenly and cover it with the lid.

Cook the terrine in a water bath in a pre-heated 350-degree oven to an internal temperature of 135 degrees (about 2 to 2-¼ hours).

Cool the terrine overnight in the refrigerator.

The following day, unmold the terrine and serve sliced, ½-inch thick, with pickles, mustard and artisan bread paired with a chilled Pinot Blanc or Pinot Gris. The terrine keeps well for 7-10 days and can be frozen for longer keeping.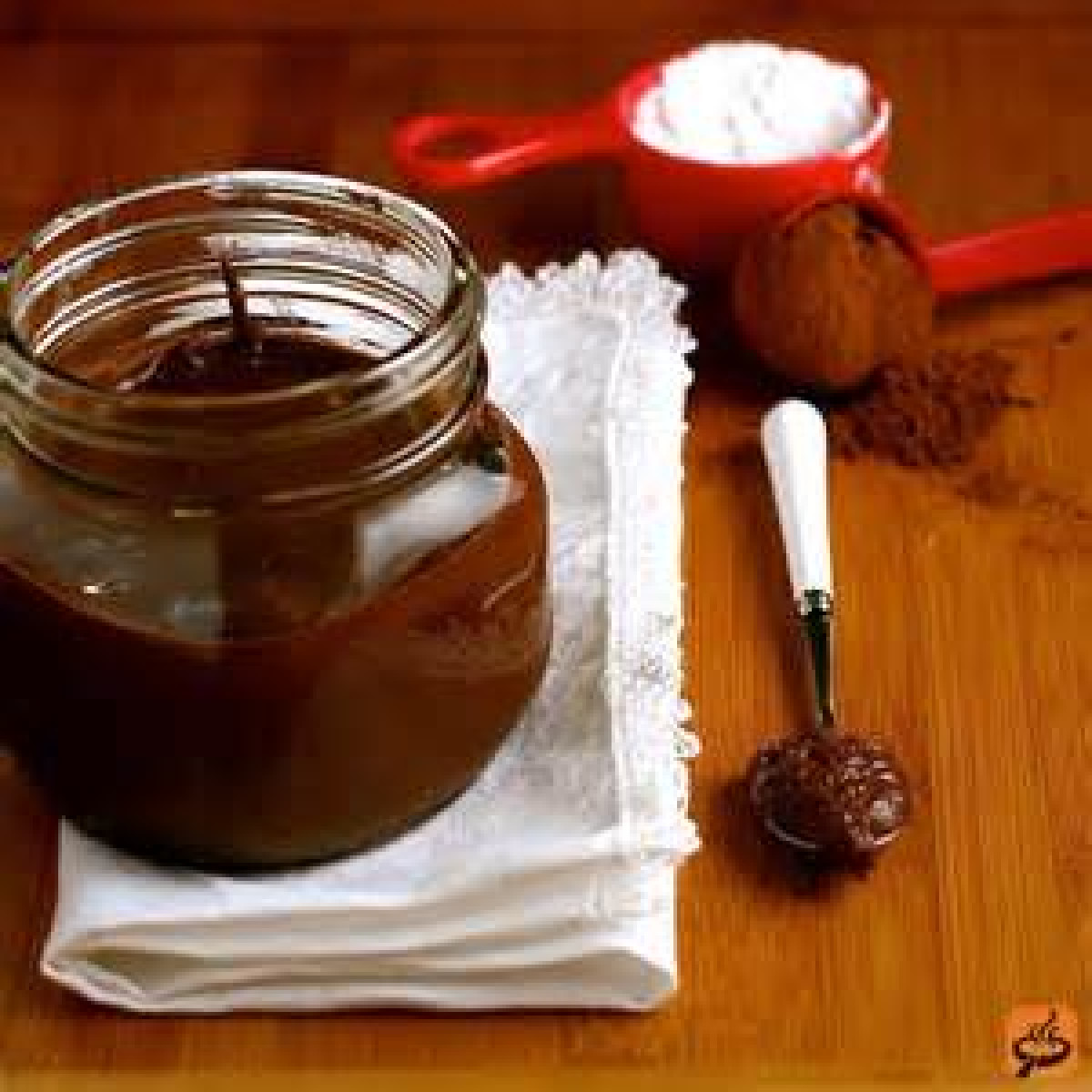 Ingredients:
2 cups raw hazelnuts
1/2 cup unsweetened cocoa powder
1 cup powdered sugar
1/2 tsp vanilla
1/8 tsp salt
3 Tbsp hazelnut oil
Directions:
Heat the oven to 400 degrees. Spread the hazelnuts evenly over a cookie sheet and roast until they darken, about 10 minutes. Transfer the hazelnuts to a damp towel and rub them to remove the thin outer skins.

In a food processor, grind the hazelnuts until they are smooth and butter-like. Scrape the sides as needed so they blend evenly, about 5 minutes.

Add cocoa, sugar, vanilla, salt and oil to the food processor and continue to process until well blended, about 1 minute. The finished spread should have the consistency of creamy peanut butter. If it is too dry, add in a little extra hazelnut oil. Put in a container, cover and refrigerate until needed. It will keep for at least a week.
Because it thickens when refrigerated, let the spread come to room temperature before using.
Find Hazelnut Growers Near You