Fava beans—good eatin' and good for soil—as the saying goes.
If you've wondered about fava beans and not tried them, now's the chance to pounce. The season is very short, and it's right now! Fava Beans are hardy, sturdy, reliable and versatile—all good traits for an adventure in trying something new from your local farmers market.
Fava beans (also spelled faba) vary in shape, size, and color. Different Fava bean varieties are available for different purposes, but are all bred from the same species, Vicia faba. They are called by a number of different names too, depending on their type—like the small sized tick bean or pigeon bean, commonly used as animal feed, medium-size seed types commonly called the horse bean, and large-seeded types, sometimes called Windsorbean or broad bean, that are used more commonly as a green vegetable or as a dry bean.
Fava beans are very popular in the Middle East and Europe, and are much less common in the United States. The small seeded variety is a common cover-crop in Oregon.
While unripe seeds (young favas) can be eaten raw when still tender, mature favas should be cooked before eating. Young beans can be steamed, puréed or sautéed and eaten with pasta or rice, and in salads. Or, one of many tasty combinations, toss cooked favas with chopped crisp bacon and chives. Ask your fresh farm produce vendor for their favorite way to eat them too, they'll have one!
If you're new to fava beans, an important note of cuation: you shell them twice! After shelling fava beans from their pod, blanch them for about 30 seconds in boiling water, then drain and plunge them in a bowl of ice water to stop the cooking. Then remove each bean's waxy outer shell by pinching the edge of the bean with your fingers and then squeezing the bean out. You can then discard the waxy skins and use the vibrant green colored beans in your recipes. If you don't do this, you'll find that you'll be struggling with chewing the waxy outer layer (center photo above).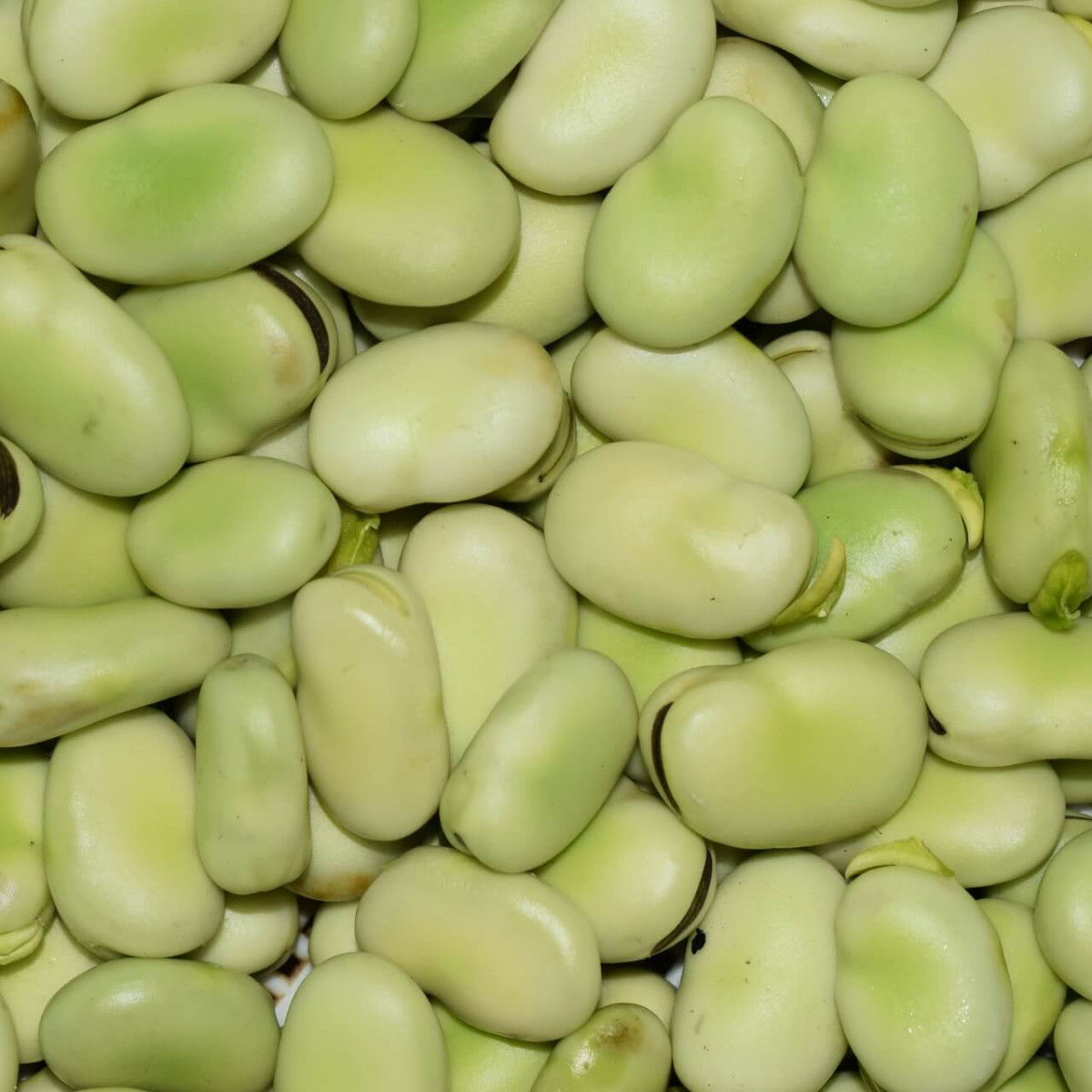 Chef's Favorites
FAVA BEANS WITH ASPARAGUS, SUGAR SNAP PEAS, and MINT
Favas, asparagus, and sugar snaps are abundant in our Pacific NW markets at the moment. Each is delicious alone, but the combination is even better and is almost endlessly versatile. Use them for a side dish with grilled meats, or in salads, or tossed in pasta (served either hot or cool). A few torn fresh mint leaves are the perfect finishing touch. 
Once the favas, snap peas and asparagus are prepared, the options for what to do with them next are wonderfully versatile—from side dish to salad to hot or cold pasta.
Directions:
To prepare the Favas, shell the pods and drop the beans into boiling water for 1-3 minutes, depending on how large the beans are.

Drain and run cold water over them until cool, then pop the inner beans out of the skin by puncturing the end with your thumbnail and squeezing out the beans inside. Set aside.

To prepare the sugar snaps, remove the stems, drop them into boiling water for 1 minute, then cool them under cold running water.

To prepare the asparagus, steam until crisp-tender, then cool under cold running water. Cut the asparagus into 1-inch pieces, and slice the sugar snaps in half diagonally if you like. 
Uses:
For a side dish, sautée some shallots in extra-virgin olive oil until soft, add the three prepped vegetables, add salt to taste, and finish with fresh mint and a spritz of fresh lemon juice.
For salad, just add the vegetables to whatever other salad ingredients you prefer and dress with a lemon vinaigrette and fresh mint.
For pasta to be served hot, follow the side dish directions while the pasta is cooking, then drain the pasta and toss it immediately with the warm vegetables, fresh mint, and freshly-grated Parmesan cheese.
For a pasta salad, add the prepped vegetables to the pasta (which you've previously cooked until just barely done, tossed with some extra-virgin olive oil, and let cool), then add mint and whatever dressing you like.
Thank you local Chef Amelia Hard for these creative recipes and uses for Fava beans and other seasonal Oregon grown produce!
OregonTaste.com is an online searchable directory promoting Oregon's local farm fresh food growers, makers and sellers in our bountiful state. Connecting them directly with consumers is a public service designed to contribute to more vibrant, sustainable and connected food systems throughout Oregon.
If you don't see your favorite Oregon farms, ranches, fisheries, u-picks or farmers markets on OregonTaste.com, submit them here. Anyone can submit a fresh food producer, it's fast, free and easy and helps connect communities through food!