Oregon was made for growing blackberries. From the dedication and hard work of our multigenerational family farms, to the optimal climate, clean air, fresh water, and rich soil of the Willamette Valley, Oregon grows some of the best tasting blackberries on earth.
Devoted solely to creating better berries, a partnership between horticulturists at Oregon State University and the USDA- ARS is now more than a century old. This cooperative project began raspberry and blackberry breeding programs in 1927, resulting in many of our favorite berries' ancestors. The program still uses wild Oregon berries for breeding better varieties.
Though the varieties of we've grown have evolved over the past hundred or so years, Oregon's Willamette Valley is still—and will likely always be—the home of great tasting, premium berries.
We grow the right berries in the right place. Our West Coast marine climate ensures Oregon berries ripen to a superior taste in the fields, as nature intended. The clean air, fertile soils, Cascade Mountain waters, warm days and cool nights allow the berries to ripen slowly, for the natural sugars to fully develop, giving each berry its best flavor. Our blackberries are picked at the peak of ripeness and flash frozen within 24 hrs to lock in great taste, color, and nutrition, and are available year round. Harvest season for Oregon grown blackberries is typically July to September. The active harvest season depend on the region and varies from year to year according to the weather. Individual berry varieties are harvested over several weeks within the harvest timeframe. Learn more about the individual varieties of Oregon blackberries.
From Oregon Family Farms To You Oregon berry growers give their experience, care, knowledge and hard work to each and every harvest. They are the reason you can find Oregon's best berries in your grocery store year round, for that taste of summer any time you need it.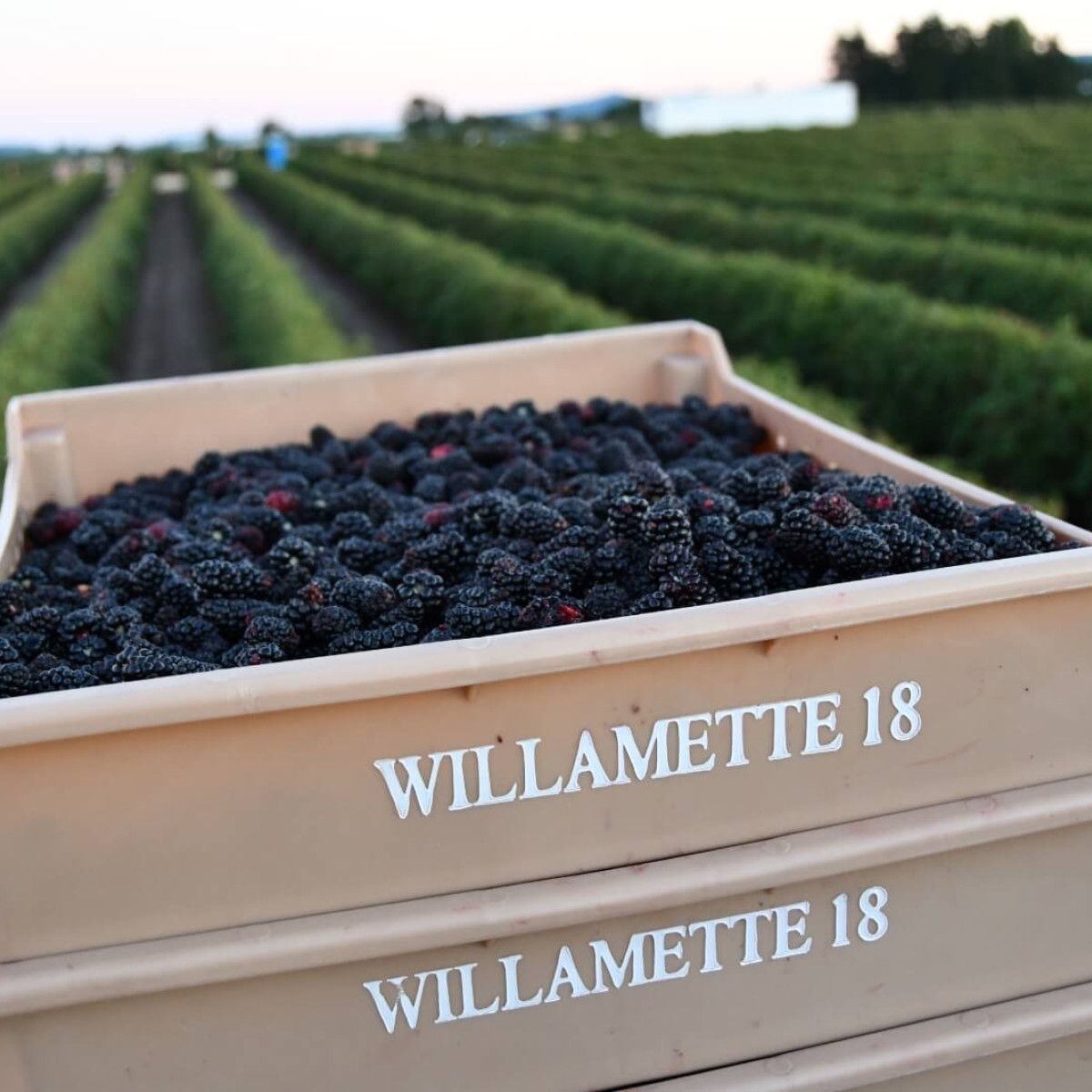 Grower Feature
DUYCK CENTURY FARM
The Duyck Century Farm in Roy, Oregon (Washington County) was established in 1907 by Henry and Kate Duyck. Their son Joe and his wife Dorothy took over the operation in 1950. At that time, the operation included grain, small seed and dairy. In 1990, Larry came back to the farm from his civil engineering career and presently owns the century farm. Through the years, the farm switched to include berries (blueberry, blackberry and strawberry) and vegetable crops (sweet corn and beans). Today the farm is about 400 acres of Kotata blackberries, blueberries, grass seed, sugar beet seed, clover seed and wheat.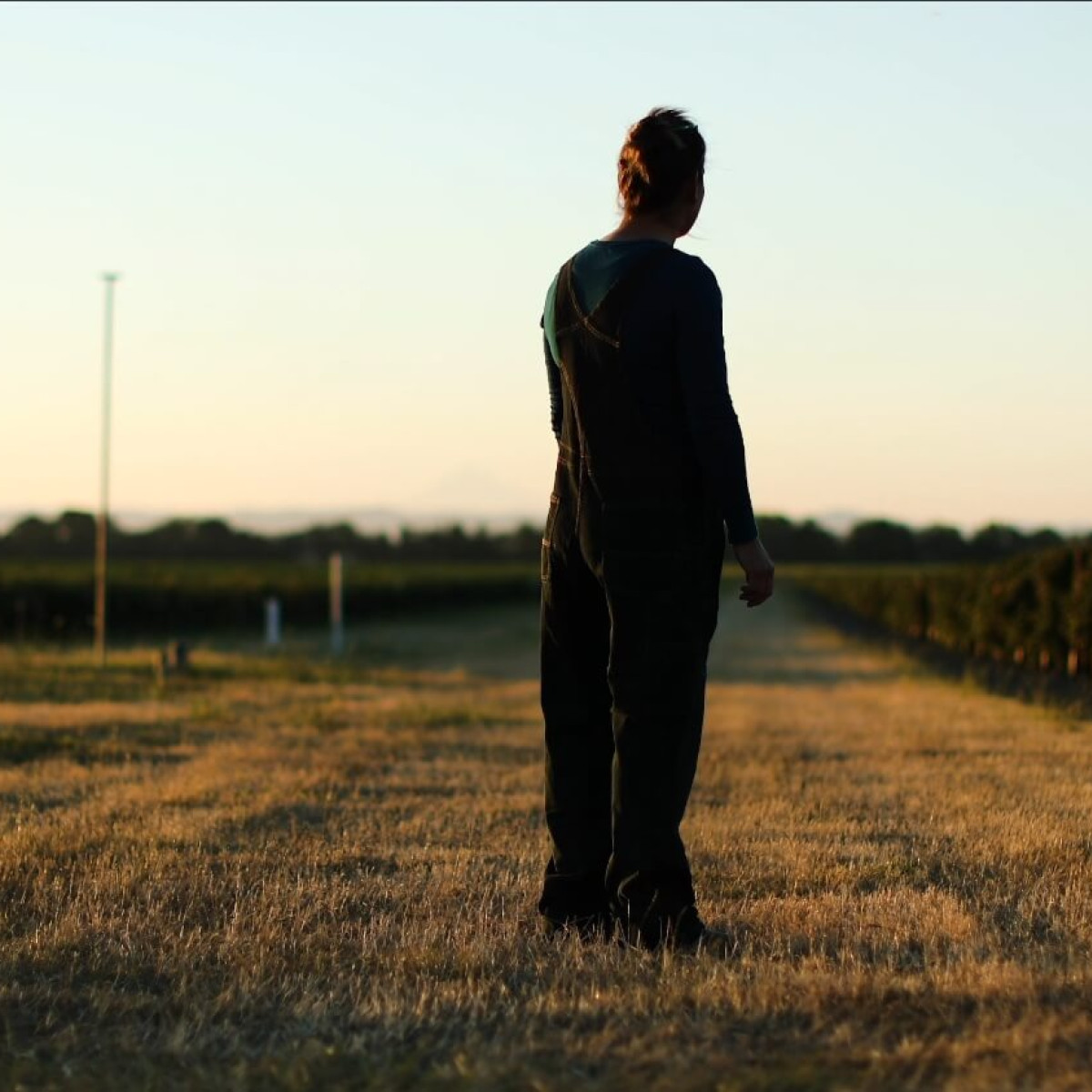 Larry's daughter, Jacque Duyck Jones, ended a 10-year teaching career to farm full time (not just during the summer harvests). Larry has served on the Oregon Raspberry and Blackberry Commission to advance research, education and promotion of the Oregon Blackberry market and Jacque continues to learn and increasingly engages with consumer outreach and educational opportunities. As Washington County Farm Bureau members, Larry and Jacque continue to advocate for and stand for the protection of ag land.
Learn more about Larry Duyck and Jacque Duyck
Chef Favorites:
Oregon Blackberry Recipes
Blackberry Yogurt Cake
Featuring citrus and rosemary for a Mediterranean-inspired twist, this classic French recipe is an easy, anytime cake is made even more delicious with the addition of Oregon Marionberries. This recipe was created in collaboration with James Beard Award Winning Cookbook Author, Dorie Greenspan. It's simple, light, moist, and super easy to make. Marionberries provides beautiful color and bright flavor, but any Oregon blackberry can be used in this delightful Blackberry Yogurt Cake.
Makes: 1 loaf
Prep time: 15 minutes
Bake time: 55-65 minutes
Equipment: 8½ x 4 ½ inch glass or metal loaf pan, microplane, medium mixing bowl, measuring cups, measuring spoons, whisk, flexible splatula, chef's knives, cutting board, cooling rack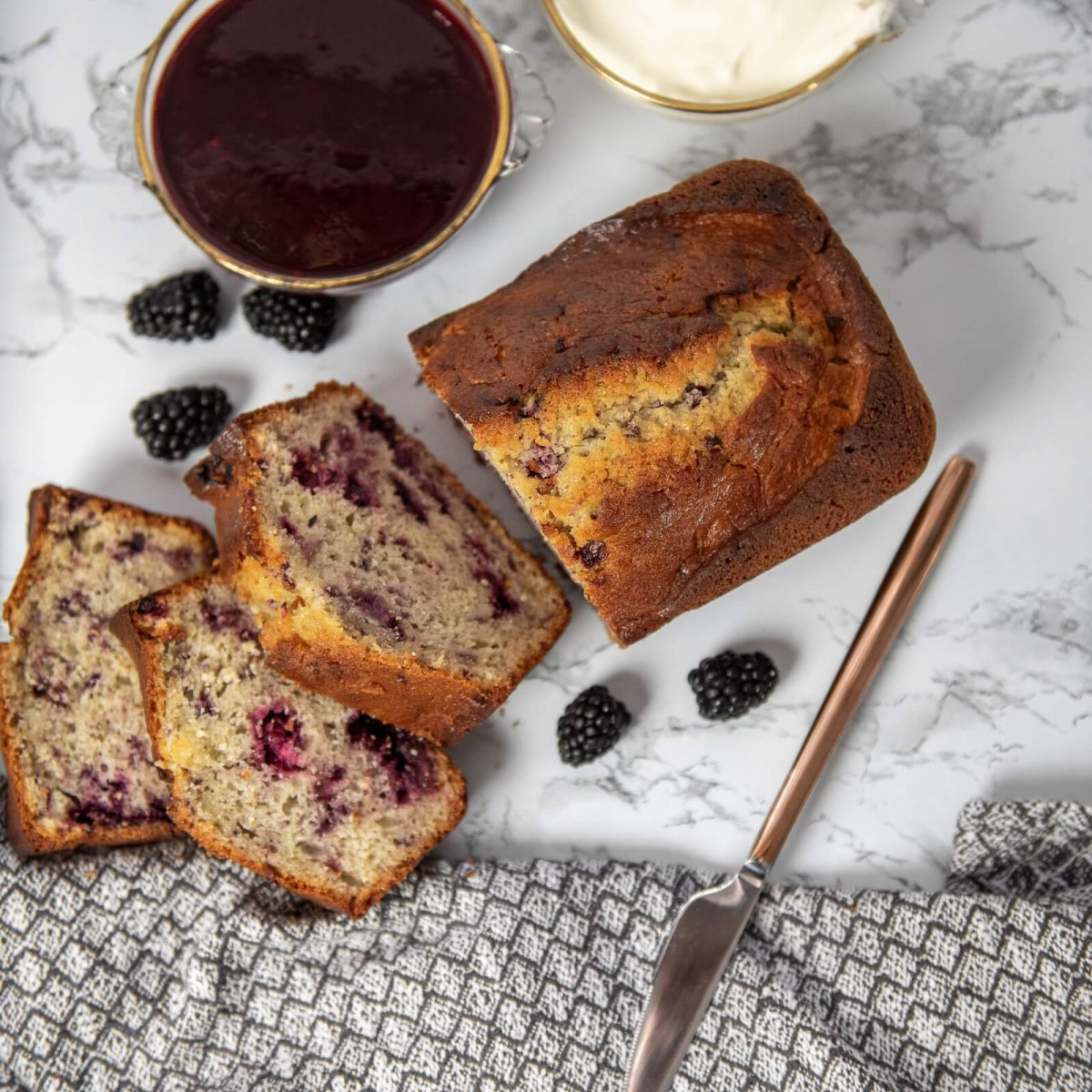 Ingredients:
1 cup frozen blackberries
1½ cup all-purpose flour (plus 2 teaspoons for berries)
2 teaspoon baking powder
¼ teaspoon fine sea salt
1 cup sugar
Grated zest of 1 lemon or mandarin orange
2 teaspoon finely chopped fresh rosemary
½ cup plain yogurt, at room temperature
3 large eggs, at room temperature
½ cup olive oil
Directions:
1. Roughly chop the frozen blackberries and place them on a plate lined with a double thickness of paper towels. Cover with another double layer of paper towels and set aside to thaw for 20 minutes.
2. Center a rack in the oven and preheat it to 350°F. Generously butter an 8 1/2-x-4 1/2-inch loaf pan (or coat it with baker's spray).
3. Whisk the flour, baking powder and salt together in a small bowl and set aside.
4. Put the sugar in a medium bowl, add the grated zest and rosemary and, working with your fingertips, rub the ingredients together until the sugar is moist and aromatic. Now, whisk in the yogurt. One by one, whisk in the eggs, then give the mixture a couple of energetic beats, so that it's very well blended.
5. Still working with the whisk, stir in the dry ingredients, whisking just until blended. Switch to a large, flexible spatula and gradually fold in the oil. You'll have a thick, smooth batter with a light sheen.
6. Remove the blackberries from the paper towel to the plate. Sprinkle with 2 teaspoons flour and use your fingers to toss the berries until they're coated. Drop the berries into the batter and use the spatula to gently fold them in. Scrape the batter into the pan, smoothing the top.
7. Bake for 55 – 65 minutes or – more important than time – until a cake tester inserted deep into the center of the cake comes out clean. (Depending on how cold the berries are, the cake could take longer to bake.) Transfer the pan to a cooling rack, wait 5 minutes, then, if necessary, run a table knife between the cake and the sides of the pan to loosen the cake. Unmold onto the rack and cool the cake to room temperature rightside up.
8. If you'd like, serve with crème fraîche and blackberry purée. The cake keeps best at room temperature. Wrap it well and it will hold for at least 4 days.
Blackberry Mango Jam
This Blackberry Mango Cardamom Jam offers new delights to your taste buds with its unique flavor combo. Honoring the great Oregon blackberry, but adding the creamy sweetness of mango, and a pop of floral nuttiness with the cardamom. This jam recipe was created by Chloe Fulton of Bramble Jam. When Chloe thinks of the Northwest, she thinks of blackberries. "There is a point in the summer when the hillsides are thick with blackberry bushes dripping with ripe fruit. The sweet aroma of hot berries mixed with fresh grass in the breeze, under a bright sunny sky. It immediately transports me back to childhood days in Oregon, filling recycled yogurt containers with juicy berries until my fingertips were tender and purple." This jam recipe will have you dreaming of faraway places as you layer it on warm biscuits and enjoy with your favorite tea. Also, a great addition to your favorite cheese board, or as a dab of flavor on top of some grilled or baked white fish.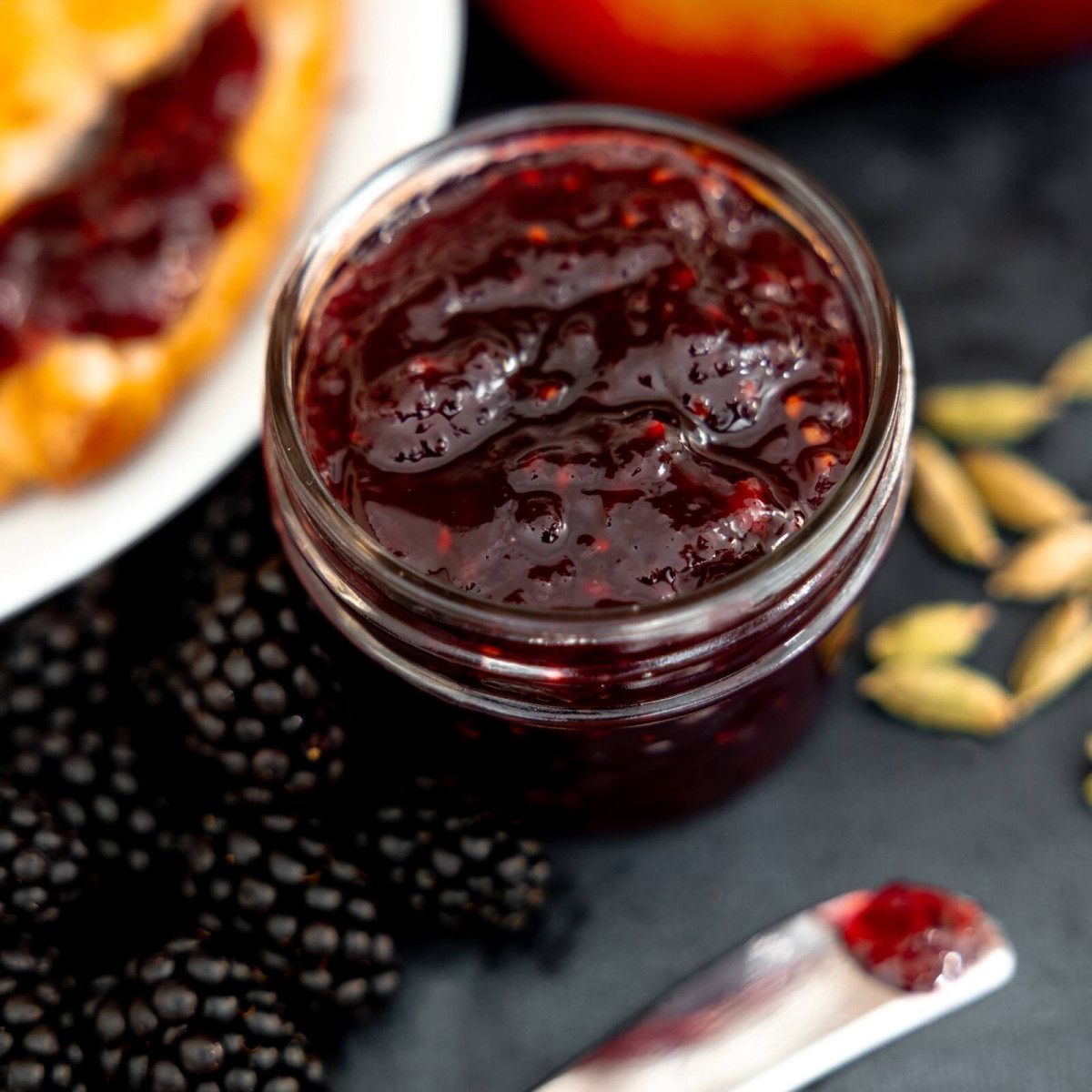 Ingredients:
7 cups of fresh or frozen blackberries
1 large (15-16 ounce) mango
½ teaspoon ground cardamom
1 tablespoon fresh squeezed lemon juice
7 cups organic cane sugar
1 packet powdered pectin
Directions:
Rinse fresh blackberries or thaw frozen blackberries, mash with a potato masher in single layers until fully crushed. You can leave the seeds in your jam, but if you prefer less or no seeds, after mashing, put berries through a fine mesh sieve. Measure mashed and/or sieved berries to have 3 ½ cups.

Pulse the mango in food processor or very finely chop, measured out to have 1 ½ cups mango, add to the mashed blackberries, for a total of 5 cups of fruit.

Place berries and mango into a 6-8 quart saucepan. Add ground cardamom to blackberry mango mixture. Mix until fully combined. Add fresh squeezed lemon juice. Gradually add powdered pectin. Add sugar and mix until fully combined. Bring mixture to a full rolling boil over med-high heat, that doesn't stop boiling when stirred. Add full measure of sugar, stirring to dissolve. Return mixture to full rolling boil and boil hard for one minute, stirring constantly.

Remove from heat, stir and skim any foam off of top.

Pour jam into hot, sterilized jars, clear jar rims and thread tops of any jam residue with a clean, damp cloth. Apply lids to jars, then apply bands and adjust until fit is fingertip tight. Process in a water bath canner for 10 minutes following home canning instructions from a recognized source such as the National Center for Home Food Preservation.
Find Berry Growers Near You
OregonTaste.com is an online searchable directory promoting Oregon's local farm fresh food growers, makers and sellers in our bountiful state. Connecting them directly with consumers is a public service designed to contribute to more vibrant, sustainable and connected food systems throughout Oregon.
If you don't see your favorite Oregon farms, ranches, fisheries, u-picks or farmers markets on OregonTaste.com, submit them here. Anyone can submit a fresh food producer, it's fast, free and easy and helps connect communities through food!